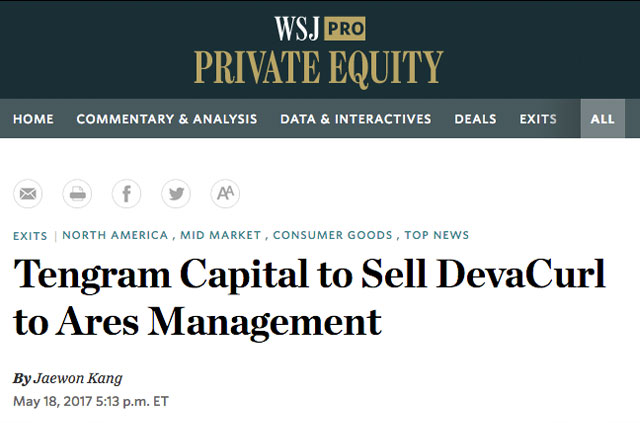 Tengram Capital Partners has agreed to exit its investment in Deva Holdings Inc. to Ares Management LP, underscoring private equity's strong appetite for the beauty and personal care sector.
Ares Management's private-equity group is acquiring the parent company of hair-care brand DevaCurl for an undisclosed sum, according to a news release.
Founded in 1994 by Denis DaSilva and Lorraine Massey, DevaCurl offers a wide range of hair-care products for consumers with curly, super-curly and wavy hair.
WSJ Pro Private Equity reported earlier this month that DevaCurl was nearing the end of its sale process. People familiar with the matter previously said DevaCurl had recorded about $10 million in earnings before interest, taxes, depreciation and amortization for 2016 and that it is projected to generate nearly $20 million of Ebitda in 2017.
The hair-care product maker, which received backing from consumer-focused Tengram Capital in 2013, is changing hands at a time of steady private-equity interest in the fast- growing beauty sector. Beauty and personal care companies have recently garnered Ebitda multiples of low-teens or higher, according to industry observers.
The sale process for DevaCurl moved quickly and attracted interest from both strategic and financial players, said a person familiar with the matter.
Within the broader beauty universe, the hair-care category has demonstrated strong growth especially as consumers increasingly wear their hair naturally and look for specialized, authentic brands, the person explained. The color cosmetics segment, on the other hand, has experienced a slowdown.
Elsewhere in the hair-care sector, Unilever PLC agreed in December to purchase venture-backed Living Proof Inc. for an undisclosed sum.
Jefferies LLC provided financial advice to Ares, which received legal counsel from Morgan, Lewis & Bockius LLP. DevaCurl received financial advice from Financo LLC and legal counsel from Morrison Cohen LLP.
Tengram Capital primarily invests in the branded consumer products and retail sectors. The private-equity firm in March backed Earth Treks LLC and last year sold Laura Geller Beauty LLC to Warburg Pincus' new personal care business, Glansaol LLC.
Meanwhile, Ares Management closed its fifth flexible capital private equity fund at $7.85 billion in April 2016.