Tengram Capital Partners Agrees to Acquire Majority Interest of Prestige Skincare Brand Algenist and Announces Broader Beauty and Personal Care Partnership with TerraVia
Leading consumer private equity firm Tengram to partner with TerraVia to grow Algenist as part of beauty and personal care partnership leveraging TerraVia's proprietary algae-based ingredient platform
San Francisco, CA - August 4, 2016 – TerraVia (NASDAQ: TVIA), a next-generation food, nutrition and specialty ingredients company and pioneer in algae innovation, announced today that is has entered into a definitive agreement to sell a majority interest in the Algenist® skincare brand ("Algenist") to Tengram Capital Partners ("Tengram"), a private equity firm that focuses exclusively on consumer and retail companies that own exceptional, highly recognizable brands. As part of the transaction, Tengram and TerraVia have also formed a partnership focused on leveraging TerraVia's innovative algae-based ingredient platform and Tengram's brand-building and investment expertise to pursue compelling new opportunities in the beauty industry.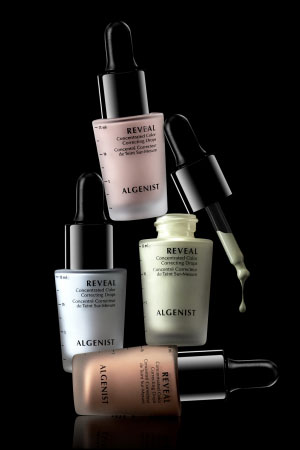 Algenist is a prestige beauty brand, developed by TerraVia and launched in 2011, that delivers anti-aging and color correcting innovation based on a suite of TerraVia's proprietary algae-based ingredients including Alguronic Acid® and microalgae oil. The brand has won broad market recognition, including the prestigious Marie Claire Prix D'Excellence de la Beaute in 2014, and the 2015 Beauty O-wards by O, the Oprah Magazine, and has achieved a global distribution footprint across 23 countries and including major retail channels like Sephora, ULTA and QVC.
"Algenist is a unique brand in the prestige skin care market, with a distinct positioning and unique and proprietary ingredients. The recent bridge into color cosmetics leveraging the patented ingredient technology creates tremendous potential for the future growth of the brand," said Richard Gersten, a Partner at Tengram. "We are looking forward to working with the existing team and leveraging our beauty industry expertise to drive continued growth across all global markets. We are also excited about the broader partnership with TerraVia and believe that there are great opportunities to create value."
Algenist's CEO, Frederic Stoeckel, added, "Having started the brand with Jonathan and the TerraVia team back in 2011, I am thrilled to lead Algenist as its Chief Executive Officer at this exciting time in the brand's development. The partnership with Tengram and TerraVia will help continue to build upon the brand's current momentum."
Upon the close of the transaction, TerraVia will retain an ownership interest in Algenist of approximately 20% and will continue to supply active ingredients formulated in the Algenist product line. As part of the transaction, Tengram will also contribute significant capital to the business to accelerate broader commercialization. At close, TerraVia will receive approximately $20 million. As part of the agreement, Tengram and TerraVia have also agreed to create a partnership focused on identifying additional opportunities to utilize algae-based ingredients across all segments of the beauty industry. By leveraging TerraVia's innovative suite of algae-based technology that have been validated by major consumer packaged goods companies, combined with Tengram's beauty industry expertise and outstanding track record in brand-building, the partners will target Tengram-led opportunities to invest behind beauty and personal care brands that would benefit from the differentiated positioning and compelling science offered by TerraVia's algae-based ingredients.
"We are enthusiastic about our partnership with Tengram as we work together to help Algenist achieve its extraordinary growth potential," said Jonathan Wolfson, Co-Founder, Chairman and CEO of TerraVia. "This partnership allows us to focus our captive commercial operations on foods and nutrition, while maintaining participation in Algenist's future success and gaining access to Tengram's expertise and leadership to participate in beauty and personal care opportunities commercializing our proprietary algae platform."
TerraVia's Board of Directors has approved the transaction, which is expected to close by the end of the third quarter of 2016 subject to customary closing conditions. Rothschild & Co. provided advisory services to TerraVia.
ABOUT TERRAVIA:
TerraVia is a next-generation food, nutrition and specialty ingredients company that harnesses the power of algae, the mother of all plants and earth's original superfood. With a portfolio of breakthrough ingredients and manufacturing, the Company is well positioned to help meet the growing need of consumer packaged goods and established and emerging food manufacturers to improve the nutritional profile of foods without sacrificing taste, and to develop select consumer brands. The Company also manufacturers a range of specialty personal care ingredients for key strategic partners. Headquartered in South San Francisco, the Company's mission is to create products that are truly better for people and better for the planet. Additional information can be found at:www.terravia.com. TerraVia, the TerraVia logo and other trademarks or service names are the trademarks of TerraVia, Inc.
ABOUT TENGRAM CAPITAL PARTNERS:
Tengram Capital Partners is a private equity firm that focuses exclusively on leading consumer and retail companies that own strong recognizable brands. The team has a diverse background of consumer investing and operating expertise that assists and guides company management to unlock the true potential of their brand. Tengram invests in both traditional "growth" and "restructuring/turnaround" situations in either the public or private sectors. Current investments for Tengram include Differential Brands Group, Cos Bar, Zanella, This Works, Luciano Barbera, Tommie Copper, Active Ride Shop, DevaCurl, Laura Geller Beauty, NEST Fragrances and Sequential Brands Group. Tengram's website is http://www.tengramcapital.com.
FORWARD LOOKING STATEMENTS:
This press release contains certain forward-looking statements within the meaning of the Private Securities Litigation Reform Act of 1995 about TerraVia, including statements that involve risks and uncertainties concerning: its strategic, product, commercialization and production plans; its transition of corporate strategy and identity; meeting commercialization and technology targets; aggregate value of future revenue; the timing and ramp-up of sales; successful product trials and market acceptance and adoption of its products; and TerraVia's ability to maintain its relationships with its partners. When used in this press release, the words "will", "expects", "intends" and other similar expressions and any other statements that are not historical facts are intended to identify those assertions as forward-looking statements within the meaning of the Private Securities Litigation Reform Act of 1995. Any such statement may be influenced by a variety of factors, many of which are beyond the control of TerraVia, that could cause actual outcomes and results to be materially different from those projected, described, expressed or implied in this press release due to a number of risks and uncertainties. Potential risks and uncertainties include, among others: TerraVia's limited operating history; its limited history in manufacturing and commercializing products; its ability to successfully transition its corporate strategy and identity; production management risks; implementation risk in deploying new technologies; its limited experience in constructing, ramping up and operating commercial manufacturing facilities; its ability to successfully develop and commercialize products; its ability to sell its products at a profit; delays related to ramp-up and optimization of production facilities; availability of consistent, reliable power and steam; its ability to manage costs; its ability to enter into and maintain strategic collaborations; successful product trials by its customers and market acceptance and adoption of its products by end-users; its ability to obtain requisite regulatory approvals; and its access, on favorable terms, to any required financing. Accordingly, no assurances can be given that any of the events anticipated by the forward-looking statements will transpire or occur, or if any of them do so, what impact they will have on the results of operations or financial condition of TerraVia.
In addition, please refer to the documents that TerraVia, Inc. files with the Securities and Exchange Commission, including its Annual Report on Form 10-K and Quarterly Report on Form 10-Q, as updated from time to time, for a discussion of these and other risks. You are cautioned not to place undue reliance on forward-looking statements, which speak only as of the date of this press release. TerraVia is not under any duty to update any of the information in this press release.