Earth Treks & Planet Granite Merge
Partnership makes gym innovation, enhanced member experiences & career opportunities possible.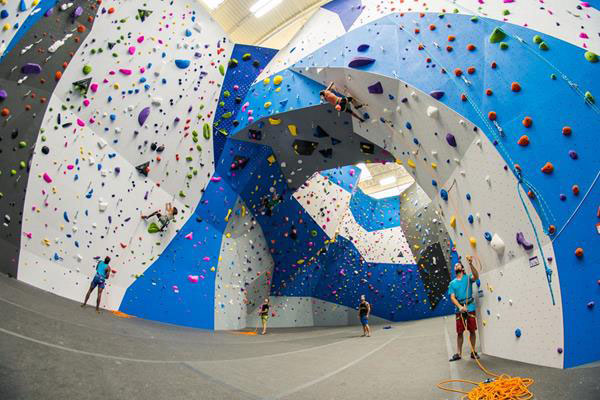 Columbia, MD - November 8, 2017 – Earth Treks Climbing and Fitness and Planet Granite Climbing, Yoga and Fitness today announced a merger that will create one of the largest climbing gym networks in the United States. This partnership brings together two of the most experienced management teams in the climbing industry, with nine climbing and fitness centers in operation and two more under construction. The combined company has more than 700 employees and serves more than 2,000,000 customers each year.
The complementary business models allow for operational scale in key regions - the San Francisco Bay Area, Denver, Baltimore, Washington DC and Portland. The company will also be expanding into major markets throughout the United States. All gyms will keep their current names and continue to serve their communities at a local level. This partnership allows management to innovate and develop programs for all climbers, leverage technology for an enhanced member experience and provide expanded career paths for our amazing staff.
"Independently we built companies that we are extremely proud of. As the climbing gym industry has evolved, we've pushed ourselves to improve in every operational and design aspect. With this shared belief in pushing our limits, we are now leveraging our powerful company cultures to have a national impact. Our goal is to bring even more opportunities to those we employ, serve and climb with," states Micky Lloyd, who founded Planet Granite in 1994.
Back in the 1990s, when Planet Granite and Earth Treks first opened climbing gyms, there were less than twenty commercial climbing gyms in the United States. Today there are more than four hundred and twenty five. According to the Outdoor Industries Association, climbing is a top five aspirational activity for millennials. The rapid expansion of the industry has propelled Planet Granite's and Earth Treks' growth. This past spring, Earth Treks partnered with Tengram Capital Partners, a private equity firm that specializes in consumer brands. The goal behind these partnerships is to create a brand with a truly national footprint.
"Our combined teams have the hard-earned wisdom, clarity of vision and drive needed to bring the transformative power of climbing to millions of people. And we are committed to doing so in a way that honors all that is great about our sport: the infectiousness of a climber's passion, the trust and caring essential to a climbing partnership and the very way climbing helps us see the world," states Chris Warner, who founded Earth Treks in 1990. Warner is one of the nation's top mountaineers, having summited Everest, K2 and more than 100 peaks worldwide. Matthew Eby, cofounder and Managing Partner of Tengram Capital Partners, commented, "We are very excited to partner with Chris and Micky and the amazing teams at Earth Treks and Planet Granite. They have built a truly amazing and authentic customer service culture for their members. We are excited to build upon this great foundation."
On November 7, 2017, Earth Treks' oldest gym, in Columbia, MD will be replaced with a state of the art climbing, fitness and yoga facility. The new gym will be four times the size of the original gym. The company has two other gyms under construction: a bouldering gym that will be co-located with a brewery in Baltimore and the nation's largest climbing gym, built in the old headquarters of The Sports Authority in Denver. Additional projects, many in new markets, will be announced in the coming weeks.
ABOUT EARTH TREKS CLIMBING AND FITNESS:
Earth Treks was founded in 1990 as a climbing guide service and opened its first indoor climbing gym in 1997, in Columbia, Maryland. Today, Earth Treks is one of the nation's largest climbing gym operators with five full-service facilities in three states. Earth Treks gyms feature sculpted climbing walls with bouldering, top-roping and lead climbing, as well as amenities like yoga studios, functional fitness and cardio zones, and retail pro-shops. Earth Treks gyms cater to participants of all abilities – from elite, competitive athletes to new entrants to the sport, including families and kids. Additional information can be found at: www.earthtreksclimbing.com.
ABOUT PLANET GRANITE CLIMBING, YOGA AND FITNESS:
Since Planet Granite opened its first climbing gym in 1994, they have been inspired by passion. The team at Planet Granite dreamt of building a different kind of climbing gym, one that doesn't just offer the best climbing, yoga and fitness, but also has that something else. At Planet Granite, this means creating a space for people to congregate and pursue their passions; to inspire each other to push harder, to sweat more, and to laugh more. Our values reflect what all of us who work here are passionate about – working hard, and playing harder. Today Planet Granite operates three gyms in Silicon Valley and San Francisco, and one in Portland, Oregon. Additional information can be found at: www.planetgranite.com.
ABOUT TENGRAM CAPITAL PARTNERS:
Tengram Capital Partners is a private equity firm that focuses exclusively on leading consumer and retail companies that own strong recognizable brands. The team has a diverse background of consumer investing and operating expertise that assists and guides company management to unlock the true potential of their brand. Tengram invests in both traditional "growth" and "restructuring/turnaround" situations in either the public or private sectors. Current and former investments for Tengram include Earth Treks, DevaCurl, Algenist, Cos Bar, Zanella, This Works, Laura Geller, Active Ride Shop, NEST Fragrances, and Sequential Brands Group. Additional information can be found at: www.tengramcapital.com.Tengram's website is http://www.tengramcapital.com.