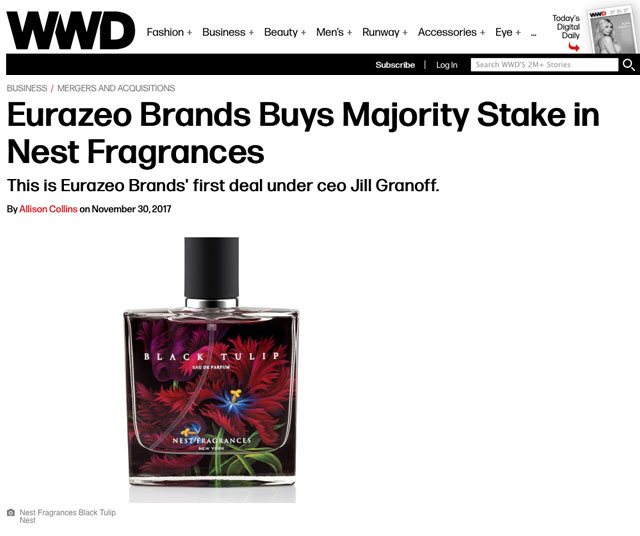 Eurazeo is getting nestled in the beauty game.
The firm has closed its first investment in a beauty brand with a $70 million deal for a majority stake in Nest Fragrances. The transaction also marks the first deal from Eurazeo Brands, the newly formed New York consumer and retail investment division of the Paris private-equity firm. Eurazeo Brands is headed by chief executive officer Jill Granoff, a beauty and fashion veteran.
Founded in 2008 by Laura Slatkin, who is reinvesting in the business as part of the Eurazeo deal, Nest makes home scents and fine fragrances. The company is best-known for its candles, but also makes reed diffusers and launched a Liquidless Diffuser, which has scented sticks instead of reeds dipped in liquid, earlier in 2017. Industry sources said the brand will do between $70 million and $80 million in retail sales for 2017, up from between $60 million and $70 million for 2016. WWD previously reported Nest hired Moelis & Co. to conduct a sales process.
At a minimum, Granoff said she thinks Nest could double or triple the size it is today. "[There is] a lot of runway for growth, both by increasing penetration with existing partners and existing categories, as well as layering on new distribution options and new geographies," Granoff said. Right now, Nest is primarily focused on the U.S. market, but plans to use its new relationship with Eurazeo to guide which international markets might make sense down the line, according to Nest chief executive officer Nancy McKay. The company will also test stand-alone doors at some point, likely with pop-ups, Granoff said.
McKay, who joined Nest after a 28-year stint at the Estée Lauder Cos., also sees room to deepen and expand Nest's product categories, she said. "We have quite a bit of opportunity within product offering and product categories to continue to be innovative within the home fragrance space, as well as disruptive…within the fine fragrance space," McKay said. Nest's fine fragrances portfolio includes 10 fragrances in eau de parfum, rollerballs and body creams.
"The home fragrance category has been large, it's growing and the area that's growing the most is the premium sector … it's really accessible luxury," Granoff said. Nest's candles are priced at $40 — less than those of brands like Diptyque, with candles that cost around $64, and Cire Trudon, priced around $105. Prestige home fragrance sales were up 19 percent year-over-year in February, according to data from the NPD Group.
McKay compared the home fragrance category to other small but growing segments in the beauty market, like brow products or face masks. "It is a part of the Millennial lifestyle, and it goes beyond Millennials to Gen Z," McKay said. "The diffuser pice is such a growing part of the segment ... Millennials are learning towards having scent all the time, which is what a diffuser allows you to do."
While Eurazeo has previously made investments on the supply side with beauty manufacturer Intercos (sold to L Catterton) and Iberchem, a fragrance and flavors supplier, Nest is the firm's first branded beauty deal. With $800 million to invest at Eurazeo Brands, Granoff remains on a quest for more beauty, as well as fashion, home, wellness, leisure and food investments. As she tells it, that hunt is how the firm found Nest, which had been backed by private equity firm Tengram Capital Partners since 2012.
"What we loved about Nest is that it actually checked numerous boxes," Granoff said, ticking off home, wellness and beauty. "We have looked at over 100 deals in five months," Granoff said. "We are proactive, not just reactive. We see deals from certain bankers but we also talk to private equity funds, that's how this transaction [came about] — we approached Tengram."
The management team, McKay in particularly, was another selling point, Granoff said.
"[McKay] has a 28-year history with Estée Lauder – I thought I was there a long time," Granoff joked, referencing her own decade-long tenure at the Estée Lauder Cos. "She built incredible brands — she was involved with Estée lauder, she was involved with Tom Ford, she was involved with Aerin…She brings all of that experience we both learned at Estée Lauder on Leonard [Lauder]'s heels — merchandising in a compelling way, being consistent over time but also delighting and surprising [the consumer]."
Under Tengram, which brought in McKay in 2015, Nest refocused the business on the brand, rather than private-label work, according to Tengram managing director Matt Eby. "We recognized the value of the Nest brand and really invested behind that and focused on getting the organization focused on the Nest brand," Eby said. "The team did an amazing job of building distribution, expanding the product lines, strengthening the brands and building a digital presence."
"Laura has created an incredibly beautiful brand," McKay said. "She is at the heart and essence of the brand, and what Tengram enabled us to do is really create a strong infrastructure and amazing team that can help us expand and highlight and innovate within the framework of what Laura created."
"The chemistry and shared vision with Eurazeo was undeniable," said Slatkin."Our new partnership brings together seasoned experts, many with over 25 years of experience in developing global luxury brands. I have tremendous respect for Jill Granoff and Virginie Morgon, Eurazeo's deputy ceo, and we are excited to tap into their expertise for our next chapter of growth."