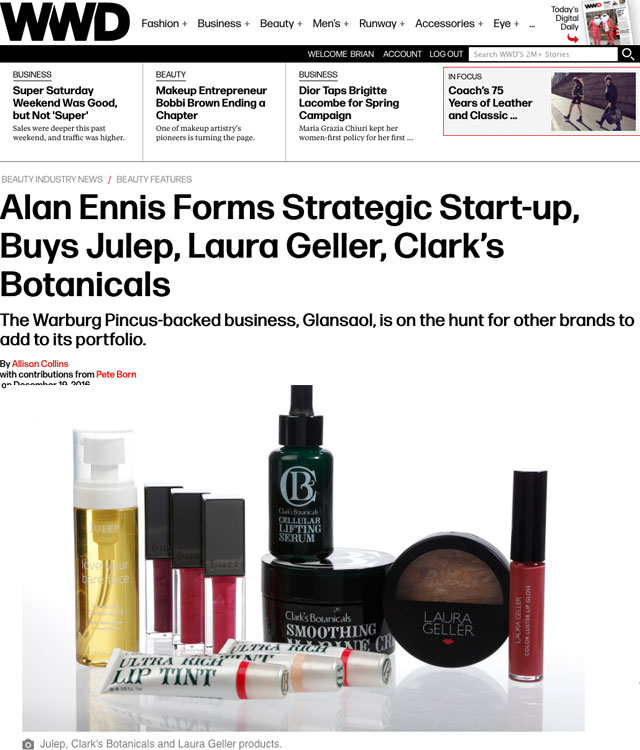 December 19, 2019 – There's a new player in the beauty market.
Former Revlon chief executive officer Alan Ennis has started his latest venture, Glansaol, and he's buying Clark's Botanicals, Julep and Laura Geller to do it. Industry sources estimate that combined, the three brands have $100 million in revenue. And there are more acquisitions on the way.
Ennis quietly started Glansaol, best described as a strategic start-up, last year. Private equity firm Warburg Pincus is providing the capital that Ennis is using to make acquisitions with the aim of building Glansaol into a wide-ranging beauty platform.
The concept provides another option to beauty entrepreneurs who may be looking to sell their businesses but are hesitant to take the traditional private equity or strategic buyer route. With Glansaol, founders sign employment contracts, invest their own money into Glansaol and join Ennis' leadership team. While each member remains responsible for his or her company, the idea is that the founders will do some behind-the-scenes collaborating and that everyone has skin in the collective game.
"We would not do a deal unless the founder owner was willing to invest at the parent level," Ennis said. "We are embarking on a journey to build a company. We're not buying a brand with a view of selling it four years from now; we're not buying a brand and integrating it into a huge big infrastructure of existing brands, we're starting from zero."
Glansaol has closed the deal for Laura Geller, and expects to close the Clark's Botanicals and Julep transactions shortly. Those purchases add Laura Geller (the makeup artist and brand founder); Laura Geller ceo Elana Drell-Szyfer; Julep founder and ceo Jane Park, and Clark's Botanicals founder Francesco Clark to the Glansaol leadership team. Ennis and Glansaol's chief marketing officer Martine Williamson are also on the leadership team.
For the brands, joining Glansaol provides the means to grow.
"For me to say I started Clark's Botanicals with a business plan with an intention of selling it would not be honest," Clark said. "I truly did this to rediscover myself."
Francesco Clark founded his skin-care brand in 2008, after a spinal cord injury landed him in a wheelchair with a host of skin problems. His long recovery period caused him to become something of a wallflower, forgoing mirrors altogether and shaving his head. But when his idol Christopher Reeve passed away, he realized he needed to make some changes.
"I realized I wasn't doing enough to be an advocate and to give other people a voice…in order to have a voice you have to leave your house, you have to go out and interact with people. You look in the mirror for the first time in three years…I didn't look like myself," Clark said. That's when Clark's Botanicals, with the help of his doctor family, was born.
Today, the brand has 77 points of distribution, including some Space NK outposts, and is on QVC. The new ownership should allow Clark's to bring products in its pipeline to the market, as well as prompt greater expansion.
"It's a brand that's not really known in the marketplace, although Francesco himself is well known," Ennis said. "We really feel that there is an opportunity to drive meaningful growth."
For Julep, the future likely holds international expansion.
"It's really about rocket fuel for the path that we're on," Park said.
When Park founded the brand in 2007, her four nail parlors served as a test lab for product feedback. Now, with a network of several hundred thousand Julep Mavens — loyal customers who buy monthly boxes of products and frequently provide feedback — that test lab has expanded substantially.
Julep has raised more than $70 million in venture capital from of investors that include Andreessen Horowitz and Jay Z. As of today, Julep is sold in 317 Ulta doors, 123 full-line Nordstrom doors (for holiday), 18 Beauty Brands locations and the original four Seattle parlors.
"It's the best of both worlds for us," said Park, when asked what she thought to being both a brand being acquired and a brand making an investment. "We see huge growth and upside and I really wanted a way to enable us to be successful, while also hanging on to a piece of the upside, which we think will be extraordinary," she said. "Most beauty transactions don't work that way."
Looking ahead, she predicted that in the next stage of growth, Julep will move faster "through international relationships and expertise." The brand has been expanding into Canada via the local shopping network and entered China with the Little Red Book Internet app — and will likely expand further in China, as well as enter the U.K. and Europe, Park said.
Laura Geller, too, expects added expansion.
"I felt like it was a natural evolution for us to the next phase of growth to find somebody who believed in the same vision," Geller said. "The deep dive and strategy will probably start right after the first of the year."
Geller, a makeup artist, formed her business, which specializes in baked, high-pigmented makeup, in 1997. It has spent the last few years re-branding and expanding under the ownership of private equity firm Tengram Capital.
"They really helped with our re-brand that we were overdue for," Geller said.
Since Tengram's 2012 investment, Laura Geller has doubled in size, according to Tengram partner Rich Gersten. Today, Laura Geller is in 1,200 doors and on QVC in the U.S. and Europe.
"We were successful in elevating the brand image, look and feel," Gersten said. "Glansaol will give the brand autonomy and allow it to maintain its own identity."
For her part, Geller is looking forward to working with other entrepreneurs, she said.
"The idea behind [Ennis] bringing founder brands together in a portfolio and having founders sitting together and strategizing and also being able to share in…back office practices to streamline things…all of that could strengthen each of our brands even though we're working independently," Geller said.
"When you're an independent beauty brand you can feel very alone….You're treading some deep waters," Clark said.
"There's a part of forming a company and running it that is lonely," agreed Park.
"It's like a start-up joining a start-up," she added, noting that what makes this deal different is "the opportunity to work together with other beauty brands, and to work with people who have beauty expertise."
Aside from financial success, Ennis' goal with Glansaol is to create a company with a collaborative corporate culture. It's a sentiment echoed in the meaning of the company's name — Glansaol means "pure life" in Gaelic. "It goes back to the culture," Williamson said. "We want to choose brands where we want to work with the people."
"A big part of why these people are sitting at the leadership table is because I want that sense of community at the corporate level," Ennis said. "It's not going to be a team of corporate guys in suits coming in to review your monthly forecast."
And Ennis and Williamson are on the hunt for other brands that could fit within that ethos. The duo is looking for color cosmetics, skin-care and hair-care brands to add to the portfolio with an eye for differentiation.
"I don't have a number specifically of how many brands, but it's more than three and less than 10," Ennis said, singling out an emotional connection to the consumer as a key factor in terms of acquisition targets. "Every brand that fits in our portfolio, there is a nucleus to it that makes it different, and our view is that is absolutely sacrosanct," Ennis said.
As Glansaol looks at other companies to buy, they are looking for an innovation pipeline with a "superior quality product," including the packaging and overall experience "so she buys it, she buys more of it, and she talks about it online," Ennis said. "It is that simple, [but] it's hard to execute."
Glansaol will look at primarily prestige brands with anywhere from $5 million to $250 million in sales, Ennis said, adding that in the current beauty M&A market Glansaol, operating with access to Warburg Pincus' latest fund, is prepared to be competitive on price.
"I said, 'I want to build a company,' [Warburg] said. 'Great, here's a pot of money, let's go build it,'" Ennis said.
"We identified [beauty] as an area of focus a couple of years ago and started looking at some assets in the space and really, frankly, fell in love with beauty as a business model," said Annette Rodriguez, managing director at Warburg Pincus, who oversees the firm's North America consumer and retail operations. Warburg's previous investments include Neiman Marcus, which then owned Laura Mercier.
"What was appealing to him was the opportunity to build a company and to do something entrepreneurial, but entrepreneurial at scale," Rodriguez said. "We've established a line of equity behind Alan and Martine."
And while Ennis and Warburg have not necessarily honed the long-term goals into a specific plan, the most likely options are an initial public offering or sale to a strategic buyer. "I think it would be a very attractive proposition to the public markets to go with a growing, multichannel, multisegment, multibrand portfolio — look at what E.l.f. has been able to accomplish," Ennis said.