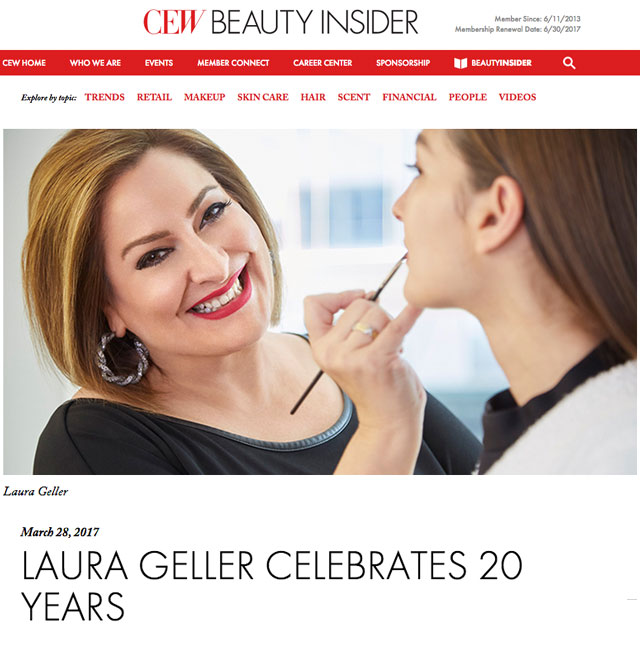 March 28, 2017 - Laura Geller New York is celebrating 20 years in business this year. That's no easy fete considering what the brand has faced over the past two decades, which includes nothing less than coming out on top despite a dot-com bubble burst, the rise and fall (and rise again) of makeup artist and derm brands, a recession, celebrity brand ambassadors, omni channel shopping, bloggers, vloggers, social media and the explosion of influencers. Here, the makeup artist and entrepreneur extraordinaire shares with Beauty Insider what she has planned to succeed for the next 20 years.
Beauty Insider: What are some of the key lessons you've learned in the business of beauty?
Laura Geller: I always say that in the beginning, the good thing about not having a lot of knowledge is that you're open to learning everything. Nothing could have prepared me for what was going to go wrong.
Branding, for one, is critical; it was what was needed for the products I was creating. They needed to look a certain way and be branded across the whole range. But since I was fulfilling other needs, such as offering great product and teaching women how to apply makeup, I was able to sustain my brand. As a makeup artist and educator, I was known for taking the mystery out of women doing makeup themselves and I communicated it unlike any makeup artist, who generally was esoteric in their demonstration. These things sustained me through the pitfalls. I didn't have the resources or time to find people who could mentor me or come in and build growth through marketing initiatives. And soon, demand was bigger than I was able to manage. Big box stores wanted my products and I wasn't in a position to sell to them but I was scared the opportunity wouldn't come again so I jumped quicker than I should have and hit some bumps in the road. But, thankfully, I was still able to attract private equity.
BI: What product helped put Laura Geller New York on the map?
LG: Spackle Makeup Primer. I always say, "had I known then what I know now," well, I would have tried to patent makeup primers in some way! After Spackle I'd say Balance & Brighten Baked Powder Foundation and the baked technology that then resonated through to our lip and eye products put us on the map. We put the artisan to work in ways they never thought about.
BI: How did you know Tengram was the right partner?
LG: When you're courting different groups, especially me, I found myself telling my story and what attracted me to [Tengram CEO] Rich Gersten was that he was attracted to my founder-owned story. We had a synergy. He got a kick out of the things that I shared and I was so happy that he understood my journey, liked my story and that he saw something he knew he could use as a platform and build out. I felt he knew what the brand could become.
BI: Your 20th anniversary present appears to be a new parent with the recent acquisition by Glansaol. Can you discuss what Glansaol means for the future of Laura Geller New York?
LG: I have a partner that is giving visibility to the brand on a global level—that was the next journey. We are laser focused on that.
Elana Drell Szyfer [Elana Drell Szyfer, CEO, Laura Geller New York, and Glansaol, SVP]: I look at the evolution of what we have done under the Tengram playbook. Rich's vision was about taking this amazing founder-led brand and developing it into one with the heritage of say a Bobbi Brown, a Laura Mercier, an Estée Lauder, brands that grew to be institutions. That's why we created the Laura Geller New York logo for the products and another for her, it was a deliberate separation of the brand and Laura. Business has doubled in size and we established the brand outside of original channels to places where consumers didn't know Laura but they knew the brand. What we decided before having a new parent is to introduce this female-led brand to the consumer and use the authentic story as part of the 20th anniversary message. We never told the 20th anniversary story outside of QVC so for the first time we are taking it across all channels. The relevance of this with the new parent is that we are at an inflection point, where we are moving from investment to institutionalization of the brand and globalization.
BI: How have you been able to keep up with the changing beauty climate over the past 20 years, especially as we are now entrenched in the social media age?
LG: Like anything else when you are forced to do something, it becomes natural. When we see a need to implement something on social media, we can be nimble, we are just one touch away from social influencers. I speak to them directly. There is more we can do but we have made great leaps.
BI: Many accomplished people often attribute their success, in part, to their team. Please mention the people who've been instrumental in helping you navigate the business of beauty.
LG: We have had wonderful people along the way but not until Rich Gersten came into my life…I had always dreamed what it would be like to have a partner that could scale my business. He brought not just business acumen but also people. I had been saying that we needed somebody at the office that had walked the path and knows people in the workplace and it was a honor that they found Elana. I could not have ever imagined that she too would appreciate the founder-led story and when she came on board she also had the vision of keeping the founder at the helm and balance that with making the brand visible. As CEO Elana was able to bring in people she knew who were right for Laura Geller and build out teams of talented people. I had no idea I needed marketing and public relations and an operations manager. They are all very talented.
BI: What exciting things does the brand have planned for its 20th year?
Elana Drell Szyfer: It's a complete 360 that will go on for many months. It kicked off with a special logo and 20th anniversary sign off. Influencer elements will be layered in, Laura will be going to many Ulta Beauty stores for personal appearances; there will be a month of programming on QVC. A capsule collection and off-gondola promotions will also be included.