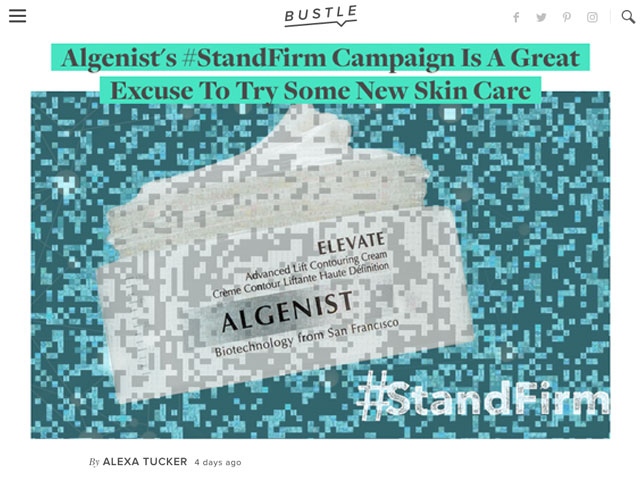 May 26, 2017 - People are beginning to see just how empowering skin care can be, and the brands that sell it can make an impact in spreading that message, too. The latest initiative to join the party: Algenist's #StandFirm campaign. It aims to inspire people to stick to their principles, stay true to their values, and own their beliefs (all while having skin — and skin care products — they feel great about).
The campaign centers around a video that shows what it means for different people to truly live what they believe. Some #StandFirm for beating personal bests, letting go, being different, pushing boundaries, self confidence . . . the list goes on.
Another neat aspect of the campaign: When you use the hashtag #StandFirm on social media to express what you believe in, you'll be added to a cool mosaic on Algenist's website (where you can also explore what other people are voicing the with #StandFirm hashtag).
And if getting involved with the campaign has you inspired to invest in some new skin care products, now's the time. Through May 30, Algenist is offering 10 percent off of their microalgae technology-based products with a 10 percent donation to Free2Luv, which is an anti-bullying non-profit organization that celebrates individuality and equality.
Take a look at the inspiring campaign video: (Source: Algenist on YouTube)
The campaign video gives people a nudge to think about what they believe in, too. Here's what some of the Algenist team members #StandFirm for.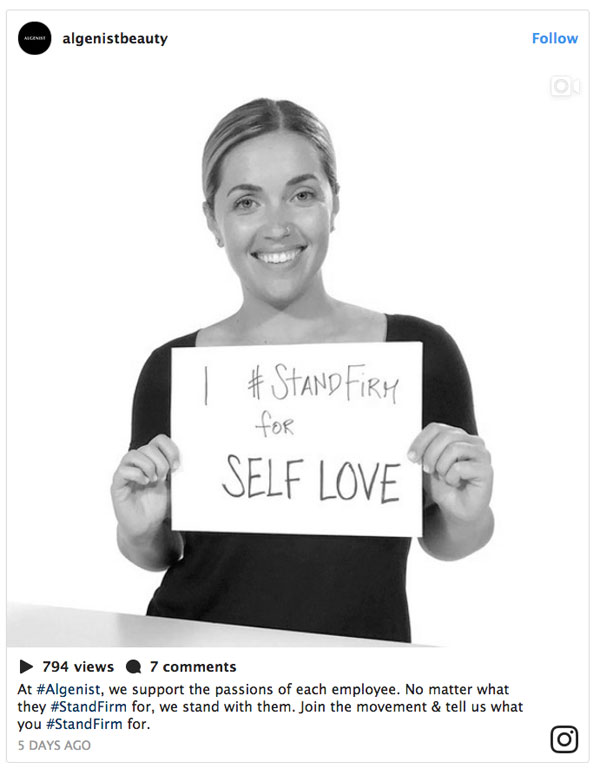 In conjunction with the campaign, Algenist released a more literal interpretation of the #StandFirm message. It's called the ELEVATE Advanced Lift Contouring Cream, and according to the brand, it visibly firms in 10 minutes. At $96, it's a splurge, but then again, that's almost $10 to Free2Luv before May 30 (so don't think too long).