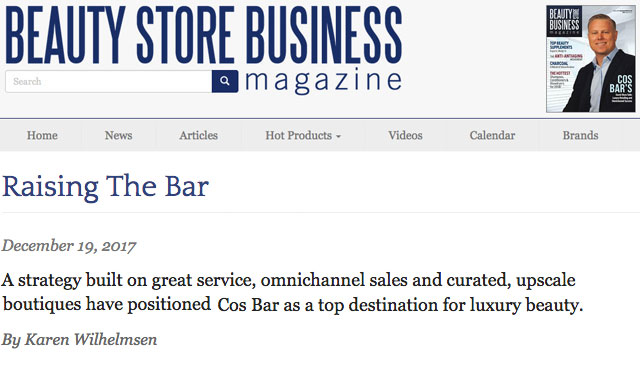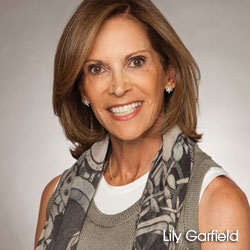 Today's cosmetics junkies have endless options to find what they need, but it's hard to imagine that just over 40 years ago, department stores and drugstores were about the only places to find beauty products. This was a reality for Lily Garfield, the driven, forward-thinking founder and co-chairman of Cos Bar, established in Aspen, Colorado, in 1976. Living in a dry climate at an altitude of 8,000 feet, Garfield recognized a need for quality skin care, which wasn't accessible. "I saw how fast your skin can age," she says.
A former Bloomingdale's account executive, she applied her knowledge of the industry to do something that was quite radical at the time: she opened a beauty store. However, Garfield sought to create something different than what she experienced at the beauty counter of department stores. "I have seen everything in a department store—the greediness, the aggressiveness, the 'Don't go near my counter,' 'Don't try my perfumes'; Bloomingdale's back then was the epitome of everything I didn't like," she says.
"The thing that I always hear Lily saying, which I love and appreciate, is that her model from the start was to be the anti-department store," adds Cos Bar CEO David Olsen, a down-to-earth, in-command and tech-savvy entrepreneur.
While the Bergdorfs and Saks Fifth Avenues of the world carried high-end cosmetics in the '70s, Garfield says she was able to convince vendors to distribute to her because she wasn't a threat to department stores. "I was 200 miles away," she says.
"We've trained our staff to treat every customer the exact same way, and make her feel important regardless of what she's wearing."
–Lily Garfield, founder, Cos Bar
And unlike department stores that had a different sales model, with associates that represented a single brand, her employees could sell any brand in the store. "Specialists who leave department stores and come and work for us say that one of the best things about working at Cos Bar is that they are now free to sell across brands—giving the customer what's best for them," Olsen says.
In today's competitive beauty retail landscape, Cos Bar continues to be a top luxury brand retailer while running a very smart omnichannel sales program, positioning itself for growth and expansion in the coming years. Its history, leadership, clear identity, customer service and relevant business practices all factor into making it a thriving beauty retail operation—now in its 41st year.
ELEVATING THE EXPERIENCE
Since 1976, the beauty industry has seen unprecedented changes. In the '80s, many fragrance brands started cropping up, while the 1990s saw the emergence of makeup-artist-created brands like Bobbi Brown. But, Garfield maintains that some things never change.
"For the first two decades of business, everything was being catered to the baby boomers," says Garfield, who predicts that millennial shoppers' buying habits will one day follow suit of their boomer predecessors. "Every generation wants to be smarter than there parents, but it turns out, life repeats itself. I'm watching things change, but eventually I can still see that even this millennial generation will end up being like their parents."
"It's more about being treated well than what we sell."
–David Olsen, CEO, Cos Bar
Garfield says that Cos Bar has not deviated from what she created 41 years ago. Its stores even carry many of the original brands, such as Lancôme and Guerlain. "I've always stayed true to what is in the best needs of the customer, not what the vendor wants me to [sell]," she says.
"Another thing that makes us unique is our luxury positioning," Olsen adds. "A lot of people throw out the buzzword 'prestige' or 'masstige'; we position ourselves at the top of that pyramid."
Cos Bar carries a curated selection of upscale beauty products in an intimate boutique environment, one that Garfield describes as the "Cheers" of beauty—when a customer walks in, specialists know their name. "What we want to do with digital is really enhance that, so in the off chance [the specialists] don't know their name, they're able to look the customer up and see their purchasing history, using technology to enhance the overall experience between the specialist and the customer," Olsen says.
THE IMPORTANCE OF OMNICHANNEL
David Olsen's area of expertise is e-commerce. While attending law school at the University of Miami, where he received a joint JD-MBA degree in 2000, he was bitten by the entrepreneurial bug. "When I graduated I really didn't want to be a lawyer. I was so excited about the internet," he says.
That year, Olsen asked his dermatologist mother, Dr. Margaret Olsen, if he could build a website for her Los Angeles practice, which sold cosmeceutical products. Soon after, her office and garage served as the company's warehouse. Because David didn't become the tech mogul he'd dreamed of being (which he laughs about today), he practiced law for three years while still maintaining the website ("litigating by day and packing boxes by night," he says).
"People think they can put up products [online] and become rich—but that's not the case," Olsen says.
His retail experience eventually led him to start his own e-commerce site in 2004 called DermTeam, which provided online solutions by selling white-label products and building websites for physicians, day spa owners, plastic surgeons and dermatologists. In 2009, DermStore, a competitor with more marketing and development support behind it, acquired DermTeam. Olsen grew DermStore exponentially over the next few years, which helped him land the position of global vice president for the Net-A-Porter Group in 2012, overseeing the launch of their beauty and grooming category.
While working for Net-A-Porter, Olsen connected with Richard Gersten, a lead partner at private equity firm Tengram Capital Partners and Cos Bar board member. Olsen asked Gersten if he was interested in investing in Cos Bar, and that if Tengram did make an investment, he'd want to be considered for the CEO role, he says.
"If you have a clear vision of where you're trying to get to, it's much easier to get there."
–David Olsen, CEO
"I just saw a huge opportunity for omnichannel, the ability to sell in-store and online," Olsen says. "I spent the first 17 years of my career saying, 'Brick-and-mortar is dead. In digital, we can recreate what occurs in the beauty specialty shop.' Clearly we can't. If you look at conversion rate, online sales are 6 percent and in-store is 80 percent. There is clearly something very critical about the human touch."
Garfield adds, "We still want to keep it much more high touch, as opposed to high tech."
Olsen became Cos Bar's CEO in February 2016, growing online sales from 2 percent to 15 percent in less than two years. "In today's day and age, being omnichannel is critical. … I know a lot of people say omnichannel is an overused word, but until the experience online is the same or better than in-store, it's still multiple channels—so, how do you connect them in a seamless way?"
RETHINKING RETAIL

Olsen's main focus is ensuring that Cos Bar customers have an overall positive experience, whether that's giving them the ability to buy online and pick up merchandise in-store, or guaranteeing that deliveries are received on time. But he's also looking into new text messaging and online technologies to better connect with his target demographic.
Stella Connect is a digital tool that will soon be integrated into all Cos Bar locations, and is currently being beta-tested in the New York and Texas stores. Here's how it works: About an hour after a customer makes a purchase, they receive an email from the beauty specialist that assisted them. The email includes a picture of the specialist and a friendly letter that includes personal information about him or her. The customer is then asked to rank their experience from one to five stars, and is given the ability to "buy" the specialist a cup of coffee, lunch or a spa day (which corporate pays for). For every five coffees a specialist collects, they receive an actual coffee; for every 10 spa days, they'll earn a spa day.
"It's connecting the customer with the specialist and giving us the ability to really congratulate and honor specialists who go above and beyond," Olsen says.
Cos Bar also has its B. Cos loyalty program, where customers can earn points for every dollar spent after signing up with an email address and birth date. On the month of their birth, shoppers can redeem a complementary makeover and accrue additional points. The loyalty program has been around for just over a year, yet 84 percent of sales come from B. Cos members.
"When I look at technology, I look at three major things: Is it practical technology (will it enhance the experience between the customer and the beauty specialist)? The adoption rate (will people actually use it?); and, does it work?" Olsen says.
Cos Bar is now beta testing same-day delivery from its Brentwood, California, locale with a signature white Fiat, and plans to rollout delivery cars to other locations in the near future.
LOCATION, LOCATION, LOCATION
Though you'll find most Cos Bars in affluent neighborhoods (think Vail, Colorado, Montecito, California, and Newport Beach, California), Olsen and Garfield believe that luxury is more of a feeling than a price point. Most customers are over 35 years old, but 20 percent are millennials.
"It's more about being treated well than what we sell," Olsen says. "… And if you're going to splurge, you want the full effect: to be sat down, educated and have someone tell you the perfect products for you. We definitely don't want to ostracize any group."
Garfield adds, "Once we assess the socioeconomics of a community, not every [location] is going to be selling the $1,000 creams in an area you might call blue collar; but we're still going to keep that image that we're luxury. You can still be luxury and carry affordable products, but you have a choice of being treated nicely."
Though brands like La Mer, Dolce & Gabbana, Estée Lauder, La Prairie and Sisley Paris are store staples, Cos Bar supplements its roster of about 80 brands based on momentous trends. For example, AmorePacific is for K-beauty fans. For customers seeking natural and organic products, they offer Tata Harper.
"If you're going to splurge, you want the full effect: to be sat down, educated and have someone tell you the perfect products for you."
–David Olsen, CEO
"Luxury is always what we look at, but what does that mean? Efficaciousness, positioning in the market, other distribution and a great founder story—all those things play into how we look at brands," Olsen says.
For customers looking to meet brand founders and celebrity makeup artists and snap Insta-worthy pics, Cos Bar hosts in-store events, such as makeovers and master classes. Previous events have included visits from Giorgio Armani lead makeup artist Tim Quinn, Laura Mercier makeup artist Jay Halo, Tata Harper and Gwyneth Paltrow for Goop (which is available at the Montecito location). The brands also offer training for specialists two to four times a year. Managers attend training events as well, like the recent Tom Ford education summit in Laguna Beach, California.
"It's critical to our business that [specialists are] very knowledgeable about everything we sell. We don't have 500 brands; we only have 80 to 90 because we really want them to be comfortable and familiar with all the brands," Olsen says.
Cos Bar's 20th store opened in Dallas on December 13, 2017. "I'm making sure we're opening stores faster, better, on time and on budget," Olsen says, "making sure we're as close to perfect as we can be. I think that's what my first two years were about—setting the foundation to give us the ability to scale."
Utilizing private equity backing, in 2018, eight more stores are expected to open their doors, with another 12 projected for 2019, and 15 to 20 more in 2020. With each store opening, the design becomes more refined. The sleek Oklahoma City, Oklahoma, locale has pale pink walls that have brought a fresh update to Cos Bar—now the Carmel, California store will soon be remodeled to reflect this new look.
"[Garfield] is truly the pioneer in specialty luxury beauty," Olsen says. "She was doing this so far ahead of everyone. Timing and location is everything, but the fact that she had a family-run business for 39 years—very successful for any business, much less in the beauty space where things change all the time—is absolutely amazing."
TIPS FOR SUCCESS
Cos Bar founder Lily Garfield and CEO David Olsen share their tips for entrepreneurs.
Set Realistic Goals: "You need to have tangible goals so you can reach them," Olsen says. "A lot of people say, 'I want to be a millionaire,' but that's not a goal. How are you going to get there? I write down my goals and I stick them on my mirror one at a time, and knock them down one at a time. If you have a clear vision of where you're trying to get to, it's much easier to get there."
Be Passionate: "The founder has to be very passionate, whether it's in retail or coming into a new product. You've got to have tough skin to say, 'I believe in this, this is going to work and I know I can be successful at it,'" Garfield says.
Don't Give Up: "Just because you love beauty doesn't mean you're going to be an incredible beauty entrepreneur. It is a lot of hard work. It is a lot of constant learning and a lot of dedication," Olsen says.
Know the Market: Garfield stresses that basic marketing 101 is all about knowing supply and demand. "Make it sparse, and it becomes much more important," she says.